Friday Cabins #44: Airbnb + ADU Startup = ?
Airbnb helped create the housing crisis... now it's launching a new company to profit off it further
Good morning and happy Friday! The time is now for another Friday Cabins newsletter curated from the pages of Field Mag, a weekly installment delivered to your inbox where we talk all things cabins. Yay!
Here in the Northeast, we saw snow for the first time this year earlier in the week. Ya'll ready for winter? 'Cause, actually, I kinda am.
But back to the content! If you missed it, this week Airbnb co-founder Joe Gebbia announced a new ADU company called Samara. Their first project, a net-zero studio and one-bedroom tiny house for homeowners' backyards. It cost a meager $300k and is only for sale in California at the moment. And yes, we're also like: 👀👀👀
Read on for the full scoop.
---
---
Samara started as an internal innovation studio within Airbnb, tasked with exploring "new futures" for the company after the founders stumbled upon a list of defunct tech companies that were once the top 10 most successful of the 1990s. Each company made the fatal error of not diversifying into other avenues. By focusing only on their core business, they allowed others to copy them, and down they went. So, spooked into innovating, Airbnb leaned into the growing ADU (Accessory Dwelling Unit) category.
Samara is now independent—with a blessing and minority stake from Airbnb—with their inaugural ADU project, "The Backyard," officially taking pre-orders. Like Dwell's Magazine's eponymous prefab, the drop of an 'affordable' ready-made unit just so happens to coincide perfectly with record-breaking housing prices, shortages and loosening restrictions on ADUs in their home-state California after reportedly years on the back burner. Evolve or die, as they say. Or perhaps better yet, contribute to a continent-wide catastrophe then evolve to profit from it even further?
Reeling it back in a bit, Samara's public intentions are reportedly innocent enough, and on principle ADUs and prefab units alike could indeed help fill the desperate need for affordable housing across the states—especially in California, where the median home price in Los Angeles was $945,000 as of February 2022. But things get sticky when considering the effect Samara's origin company Airbnb has had on the housing crisis itself. The so called 'Airbnb Effect', to be precise. Short-term rentals take the place of long-term housing availability in markets, effectively displacing renters or prospective home-buyers on the hunt for space.
And among an in-law suite, backyard studio, and at-home office, the Backyard is also marketed as a short-term rental. One that would work especially well in Airbnb's newly launched "tiny homes" category.
Is Samara out here trying to rectify the wrongdoings of Airbnb, provide solutions for a housing crisis, or create an evil, self-serving mega loop?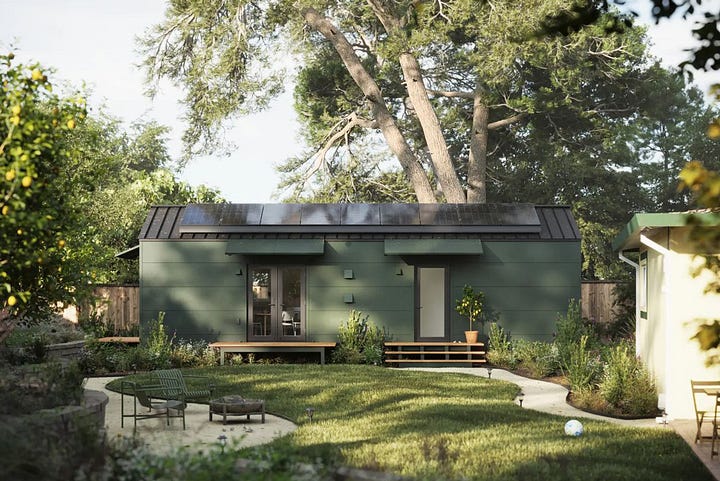 Perhaps all three are true, as oftentimes issues are capable of holding many truths and contradictions at once. And we'd be remiss not to acknowledge that this very newsletter (and the website from which it's born) supports Airbnb through cabin rental lists and the like...
So where does this leave us, at least for today? Perhaps using VRBO *shruggie*
---
That's all for today. ttys!
-ee